The 2021 Subaru Love Promise Community Commitment Award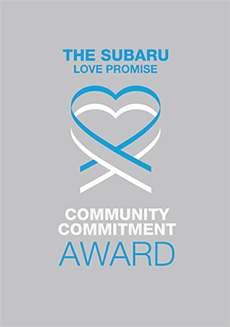 We've been nationally recognized for our dedication to our community and the Subaru Love Promise.
We're honored to receive the 2021 Subaru Love Promise Community Commitment Award. This award nationally recognizes Subaru retailers who are making the world a better place while demonstrating an outstanding commitment to supporting passions and causes in local communities. These efforts are focused in important areas such as the environment, community, health, education, and pets.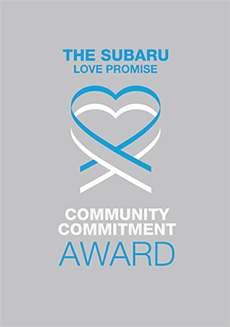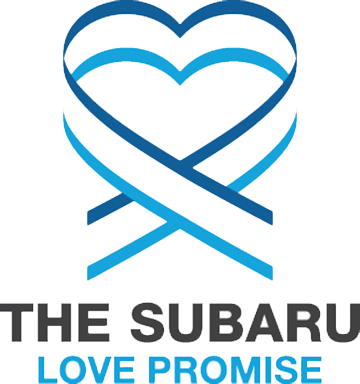 What is the Subaru Love Promise?
Subaru and our retailers believe in making the world a better place and the Subaru Love Promise is our vision of respecting all people. This is our commitment to show love and respect to our customers and to work to make a positive impact in the world.
How is Ultimate Subaru dedicated locally to the Love Promise?
Our Love Promise can be seen in various partnerships with local charities and non-profits. We're grateful for the opportunity, not only to be a part of our community, but to serve it as well. Help enhance the lives of the youth in our community and help achieve their goals.
University of Mary Washington
Love Promise Stories from Ultimate Subaru
Subaru and Ultimate Subaru believe in making a positive impact on the communities in which we live and work. We uphold that belief through our Love Promise Community Commitment. Every month, we select inspiring stories from customers and partners from around our area who strive to support our collective commitment and feature them here
Covered with love - David C
A warm and welcome surprise arrived at the Thurman Brisben Homeless Shelter: a van filled with cozy Subaru blankets in honor of National Homeless Youth Awareness Month. The men, women and children, families and singles that find themselves caught in the storms of life are comfortably covered by the loving care and concern of Subaru. Our warmest thanks to Subaru, Ultimate Automotive of Fredericksburg, Virginia, Mr. Randall Harris and staff for your kindness and generosity. We feel the love!
---
Outstanding Supporter - Erin F
I am a volunteer for Old Dominion Humane Society. All year long we receive support from Ultimate Subaru and their staff. Many of the staff members from Ultimate Subaru are part of our foster and volunteer program. Our shelter is featured every month on the Ultimate Subaru newsletter. It gives us the opportunity to feature our special pups who need a special home and reach a community of people larger than our established base. There are so many ways that the team at Ultimate Subaru have contributed to the success of this shelter. We have received boxes of toys for our dogs from Subaru of America. We have also been the beneficiary of monetary donations that help us cover the cost of vetting the dogs and getting them ready for their new homes. Ultimate Subaru has been an amazing member of our community providing support in essential ways. Thank you Ultimate Subaru for all you do!
---
We need a car now ! - Thomas E
With our 07 Murano disabled a few days before Christmas, we needed a car to drive to Va Beach to visit relatives. We considered a rental, but decided against it. We had been considering buying a new car sometime in the near future and had done a lot of homework on the subject.We decided to go with Subaru. Our local dealership did a great job finding us the perfect car for us, a metalic grey 2020 Forester touring with saddle brown leather interior. She did a great job getting us to Va Beach and we expect to love her for many years to come. Our salesperson, Sam, and the financial officer, Jessica, both did an exceptional job at helping us and we are very grateful to them.
---
The day we loved dogs... - MISHA A
So, I should start by saying Subaru loves pets is our favorite month of the year. We get to turn the store into a dog crazy donation/adoption event for the whole month and we look forward to it the entire year. Better than Christmas and this year was no exception! We teamed up with Old Dominion Humane Society, a local non profit rescue that honestly, most of the employees here have gotten our dogs from. They are great people who really love their cause! We spent the entire month raising money and supplies for Old Dominion and on Saturday the 26th of October we had a dog adoption event that had a silent auction, raffle, food, drinks, snacks, 12 doggies for adoption and fun all around. Old customers stopped by to show support as well as lots of new faces. We raised over $700, tons of supplies and 3 dogs were adopted. We also donated everything that wasn't used by Old Dominion to Leashes of Valor, a non profit that pairs and provides training to wounded veterans and their potential service dog. I honestly don't think it could have gone better and a turn out of over 100 people to our little store in our little community is a big deal. Now to patiently wait until next year!
---
Subaru/LLS Loves To Care Blanket Delivery - Khiem T
On July 25, the Virginia Chapter of The Leukemia & Lymphoma Society (LLS) and Ultimate Subaru had the pleasure of delivering 80 blankets to Mary Washington Hospital as part of the Subaru Loves To Care program. These comforting gifts were accompanied by personalized messages of hope written by the customers and staff of Ultimate Subaru. This incredible act of generosity was warmly received by the Mary Washington Hospital staff who were thrilled to distribute these comforting gifts to their patients.The hospital staff was kind enough to host a reception for all parties. They also graciously gave Subaru and LLS a tour of radiation and oncology facilities, including a demo of their state-of-the-art equipment. LLS is proud to partner with Subaru to spread hope, love and warmth to those fighting cancer, across the country and right here in the Fredericksburg community. Many thanks to everyone at Ultimate Subaru and Mary Washington Hospital, not only for a memorable day, but for supporting LLS's mission to cure blood cancers and improve the quality of life of patients and their families.
---
Subaru Loves PowerHour - Forrest P
The Subaru Share the Love Program has supported us with an opportunity to offer homework assistance and tutoring for over 80 students per day, between the ages of 5-16, 4 days a week. Between the hours of 3:00 p.m. and 5:00 p.m. we have witnessed a significant enhancement of - inside, and outside the classroom - impact. 84% of our members have maintained or achieved a higher GPA outcome because of this program. We would like to thank Ultimate Motors for their continued support and making a difference at our Boys & Girls Club.
---
SUBARU/LLS BLANKETS FOR CANCER PATIENTS - Khiem T
Along with team members from Ultimate Subaru of Fredericksburg, the Virginia chapter of the Leukemia & Lymphoma Society had the pleasure of delivering over 80 blankets to patients going through treatment at the Mary Washington Regional Cancer Center. During our visit, some of the staff at the hospital were generous enough to give the employees of Ultimate Subaru and LLS a tour of the cancer center. We were able to see the new technology that they are using to treat cancer in our state, making it easier on patients because they won't have to travel across the country to get the treatment they need. What made it even better was that one of the nurses giving the tour, Jane, was celebrating a year of survivorship from breast cancer and was a patient at the cancer center we were touring. The advancements in technology made it possible for Jane's doctors to really focus in on where the mass was located and not cause any damage to the rest of her tissue. She is truly a living example of what LLS pushes so hard, advancements in cancer treatment that make it easier on patients. LLS has turned their focus to fighting all cancers and we can only hope that one day we can find a cure to end all cancer.
---
Subaru Loves the Earth - E-Waste Event - Danielle S
We would like to thank our customers for participating in our E Waste Recycling event during the month of April. With your help, we were able to prevent 2,090 lbs of carbon emissions from polluting the atmosphere. This is equivalent to saving 81 trees, 356 gallons of gasoline, 3,030 plastic bottles, and 13,936 aluminum cans. Thank you for helping strengthen the Subaru Love Promise!
---
April 1-30, 2015 E-Waste Recycling Event - Molly M
Throughout the month of April, we are hosting an E-Waste Recycling Event in our store to collect unwanted electronics. We've arranged to work with a company who will responsibly collect, re-purpose, and recycle your electronic waste. Help us protect our environment. Just show up with your E-Waste and we'll do the rest! The first 50 customers who contribute will receive a complimentary environmental badge of ownership. We will accept: LCD Monitors, Cell Phones, Laptops, Tablets, CRTs up to 40, Video Games/Consoles, Fax Machines, DVD/VCR Players, Printers, Computer Peripherals, Switches/Routers, Cords and Wires.
---